Tomato Soup with Grilled Cheese Croutons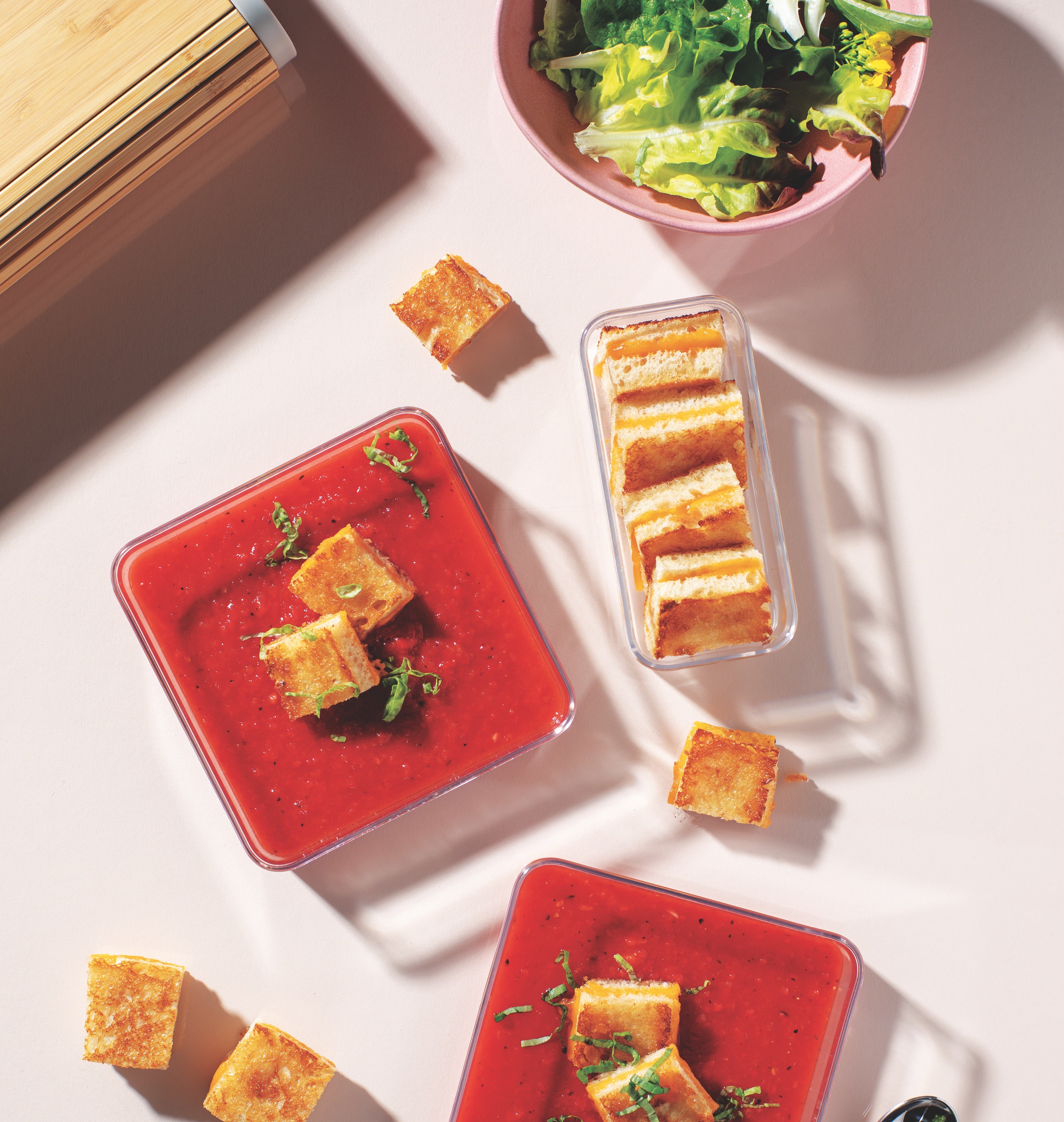 Ahhh, tomato soup and grilled cheese—the ultimate comfort meal. Give it an upgrade by whipping up an easy batch of soup from scratch—and transforming the sandwich into bite-sized "croutons." Roasting brings out the sweetness of the tomatoes and garlic, the perfect accompaniment to the crisp, buttery, cheesy bites, ready to be scattered on top. Pack the croutons separately and add to the soup just before eating. Your childhood self will thank you.
Yields 2 Servings
INGREDIENTS: 
12 large vine-ripened tomatoes, halved
1 head garlic, halved crosswise
2 tablespoons olive oil
3 cups vegetable or chicken stock
2 to 3 teaspoons sugar
Butter, at room temperature
4 slices of bread of any variety you like
¾ cup grated sharp cheddar, gruyère, or other hard cheese
4 basil leaves
Salt and freshly ground pepper
METHOD: 
Preheat oven to 350°F. Place the tomatoes and garlic on two baking sheets lined with parchment paper. Drizzle with olive oil and sprinkle with salt and pepper. Roast for 40 minutes or until very soft. Allow to cool slightly.
Squeeze the garlic flesh from its skin and process in a blender with the tomatoes and any juice from the baking trays in two batches until smooth. Cook the tomato mixture, stock, and sugar in a saucepan over medium heat for 6 minutes, stirring occasionally.
Heat a dry skillet over medium heat. Spread softened butter over bread slices. Top unbuttered side of 2 slices with shredded cheese and 2 basil leaves. Top with remaining bread, buttered side up, and cook, turning once, until bread is golden brown and cheese is melted, about 3 minutes per side. Cut sandwiches into crouton-sized pieces. Let cool before packing so that the croutons stay crisp.
To serve, top soup with grilled cheese croutons.
SERVE: 
Green Salad and Lemon Vinaigrette (from cookbook)
DO AHEAD:
The soup can be frozen in individual portions, 4 to 6 months ahead
Share