Steak, Wasabi Mayo, and Arugula Sandwich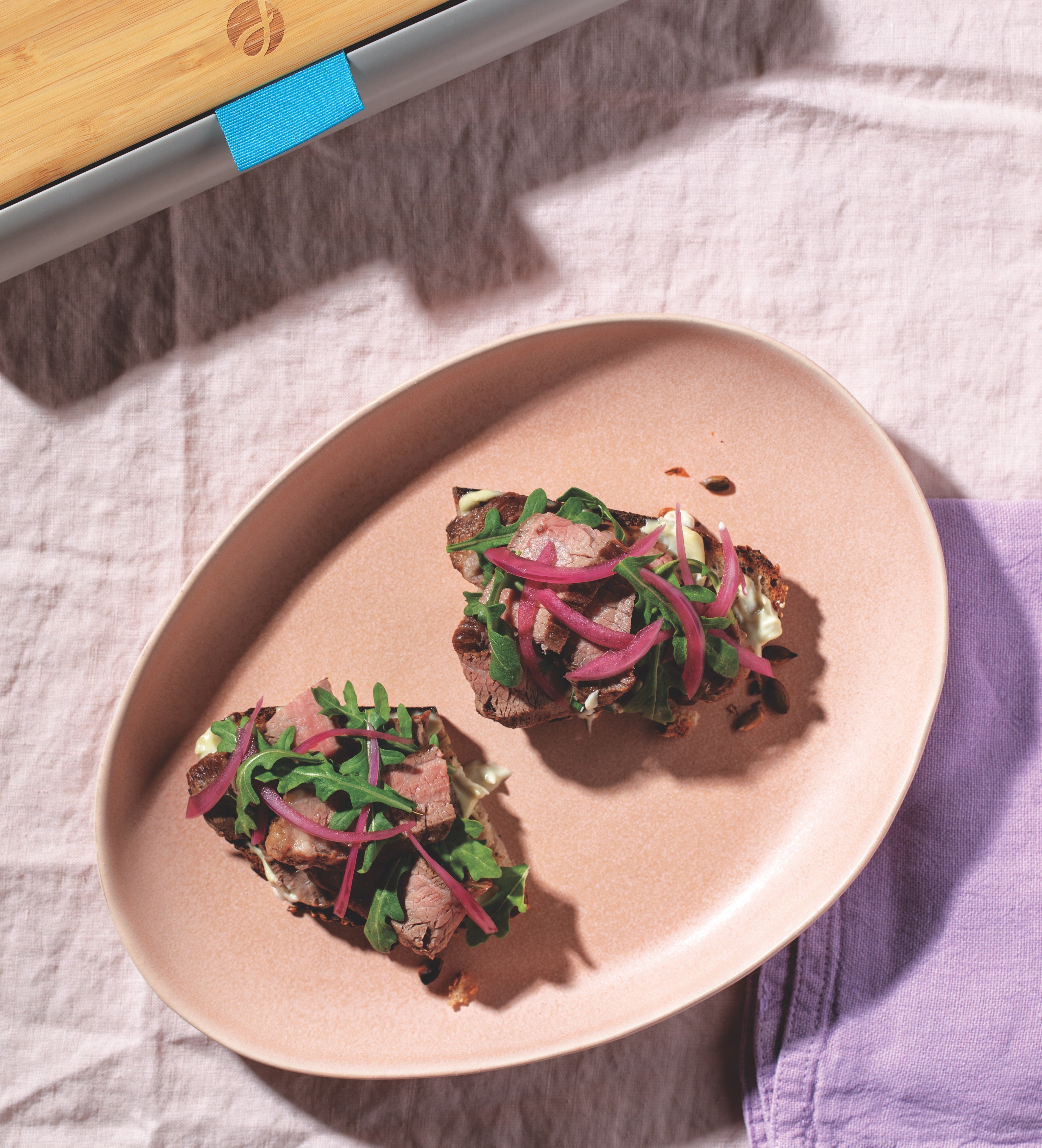 Sometimes you're after something that will fill you up—and perhaps use up the rest of last night's steak dinner. This is the perfect sandwich to do both. Combine just a dollop of wasabi paste into creamy mayo for a delightful kick. Pungent arugula's herbaceous peppery flavor pairs beautifully with the juicy red meat.  
Yields 2 Servings
INGREDIENTS:
4 slices of country bread or rye bread
Olive oil
3 tablespoons mayonnaise
½ to 1 teaspoon wasabi paste
½ to ¾ pound cooked steak, sliced (p. TK)
2 cups arugula
Pickled red onions (p. TK)
Dijon mustard
Large-flake sea salt and freshly ground pepper
METHOD: 
Heat a skillet over medium heat. Drizzle bread with olive oil. Working with 1 to 2 slices at a time, toast until golden brown and crisp, about 2 to 3 minutes each side.
In a small bowl, mix together the mayonnaise and wasabi. Spread the wasabi mayo on 2 slices of bread. Layer on the steak and season with sea salt. Top with arugula and a few pickled onions. Lightly season again with salt and pepper. Spread a bit of mustard on the remaining 2 slices of bread and top sandwiches, sandwiching them together to serve.
DO AHEAD: 
Pickle the onions, 1 week ahead
Make the wasabi mayonnaise, 5 days ahead
Cook the steak, 3 days ahead
Share