Steak and Rice Noodle Bowl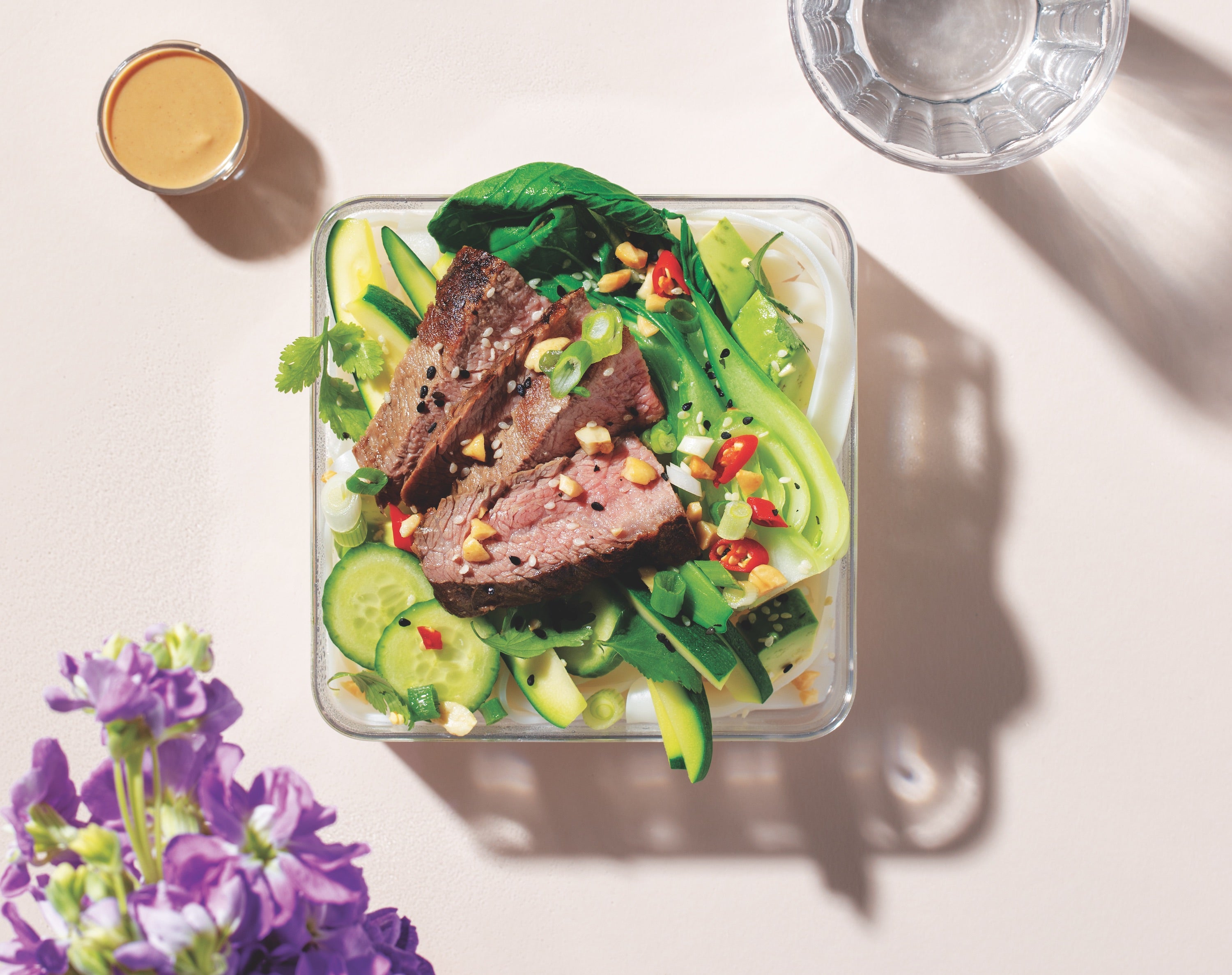 Here's a secret to quickly cooking the base ingredients for this Thai-inspired noodle bowl: Drop rice noodles, bok choy, and zucchini together in a bowl, pour boiling water over the top, then transfer to a salad spinner to drain the excess water. In minutes, everything will be ready to pack in your Prepd box. With the addition of sliced seared steak, all the fixings, and a drizzle of peanut sauce, the dish is equal parts filling and balanced.
Yields 4 Servings
INGREDIENTS: 
8 ounces rice noodles, cooked according to package instructions
4 baby bok choy, halved or quartered
1 large or 2 small zucchini, sliced lengthwise into thin strips
Vegetable oil or sesame oil
1 Persian cucumber, thinly sliced
1 avocado, cubed
Seared steak, sliced (in book)
½ bunch cilantro leaves
2 scallions, thinly sliced
1 Thai or small red chili, thinly sliced
Crushed salted, roasted peanuts, for serving
Sesame seeds, for serving
Peanut sauce (in book)
Salt
METHOD:
Place rice noodles, bok choy, and zucchini in a large heat-proof bowl and cover with boiling water, and cover. Let stand for the amount of time listed on the noodle package (if there is a time listed for "cold noodles" follow this amount). The noodles should be cooked through and the vegetables bright green, but not over cooked. Rinse under cold water, drain, and then toss in a small amount of oil to prevent sticking and dry.
Divide noodles, bok choy, and zucchini between serving containers and top with cucumber, avocado, and steak. Season with salt. Sprinkle cilantro, scallions, chilis, peanuts, and sesame seeds over top. To serve, drizzle peanut sauce over top and toss to coat.
DO AHEAD
Make the peanut sauce, 1 week
Cook the noodles and vegetables, 3 days ahead
Cook the steak, 3 days ahead
Share