Miso Eggplant Gyoza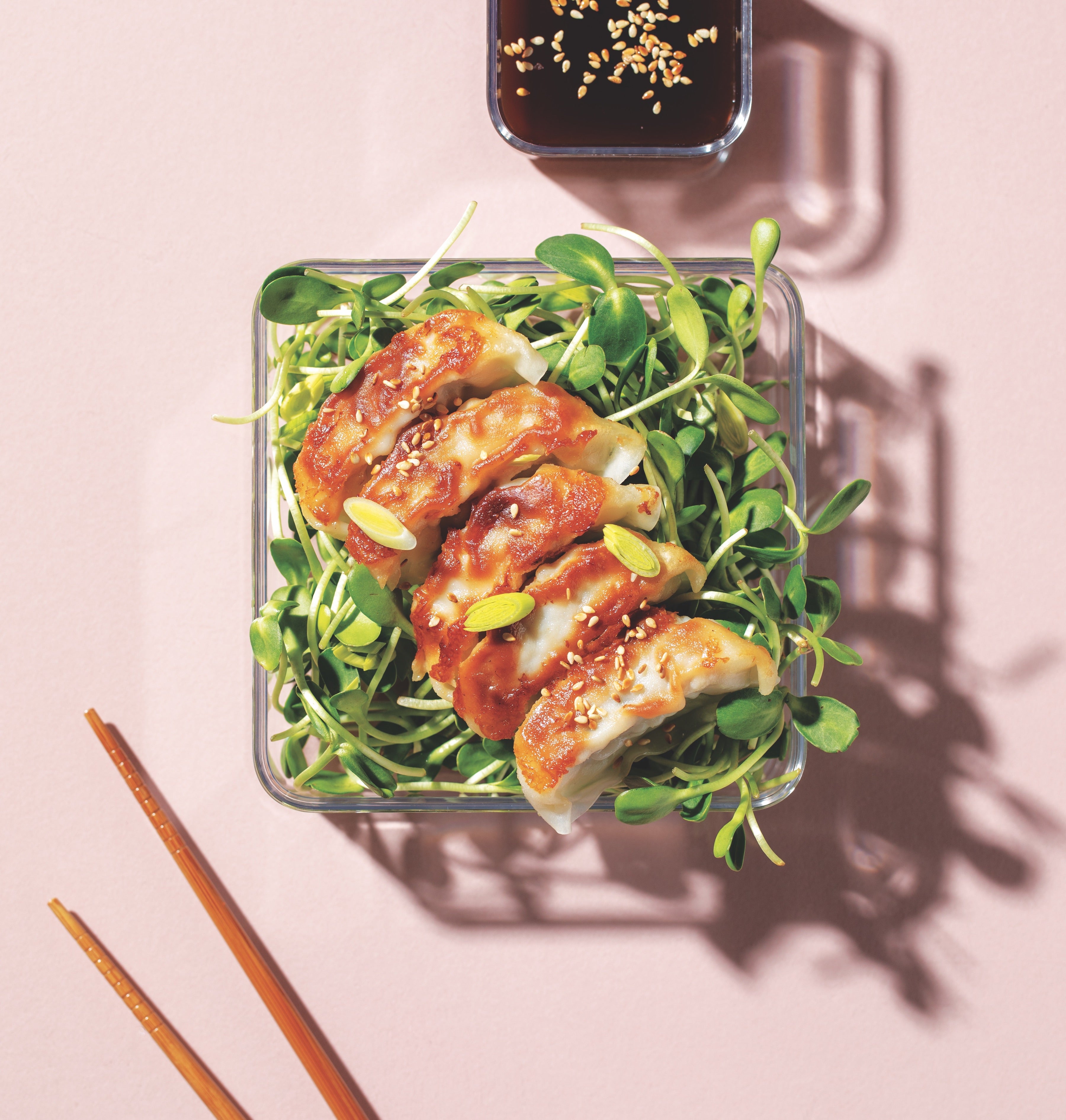 You can never go wrong with dumplings. Prep the filling—here, a miso-infused roasted eggplant (Nasu dengaku, a fixture on many Japanese menus)—ahead of time so they come together quickly. Even better, you can freeze extras in zip-close bags to thaw and enjoy anytime you're craving a Japanese-inspired lunch. Don't forget the soy sauce for dipping and a sprinkle of crunchy sesame seeds.
Yields 4 servings
INGREDIENTS:
1 tablespoon mirin
2 tablespoons sake
2 tablespoons sugar
¼ cup white miso paste
1 teaspoon finely grated ginger
6 Japanese eggplants, halved
1 tablespoon plus 2 teaspoons sesame oil, divided
About 30 gyoza wrappers, defrosted
Soy sauce and sesame seeds, for serving
METHOD:
Preheat broiler to high.
Place the mirin, sake, sugar, miso and ginger in a small saucepan over medium heat and bring to the boil. Cook, stirring, for 2 minutes and set aside.
Brush the cut side of the eggplants with 2 teaspoons sesame oil. Place, cut-side up, on a parchment-lined baking sheet. Broil for 4 minutes or until lightly golden. Brush with the miso glaze and cook for a further 6 to 8 minutes or until golden and the eggplant is cooked through. Let cool, then finely chop.
To make the gyoza, dry your hands completely (or wrappers will stick). Place a gyoza wrapper on one hand and put 2 teaspoons filling in center of the wrapper. Brush edge of half the wrapper with cold water. Make a semi-circle by folding the wrapper in half. Pinch open sides of wrapper together with your fingers and seal the top.
Heat remaining 1 tablespoon oil in a large skillet over high heat and cook the gyoza for 2 minutes, without moving them. Pour ½ cup water into the pan and quickly cover with a lid. Cook for 1 minute, then give the skillet a few firm shakes to help remove any stuck on bits. Cook for 1 minute more, or until the water has evaporated and the wrappers are cooked. Serve with soy sauce and sesame seeds.
SERVE WITH:
Green Salad and Lemon Vinaigrette (from the book)
Smashed Cucumber Salad (from the book)
DO AHEAD:
Make the filling, 5 days ahead
Extra gyoza can be frozen in zip-close bags, up to 2 months
Share