Chipotle Salmon Tacos with Mango Salsa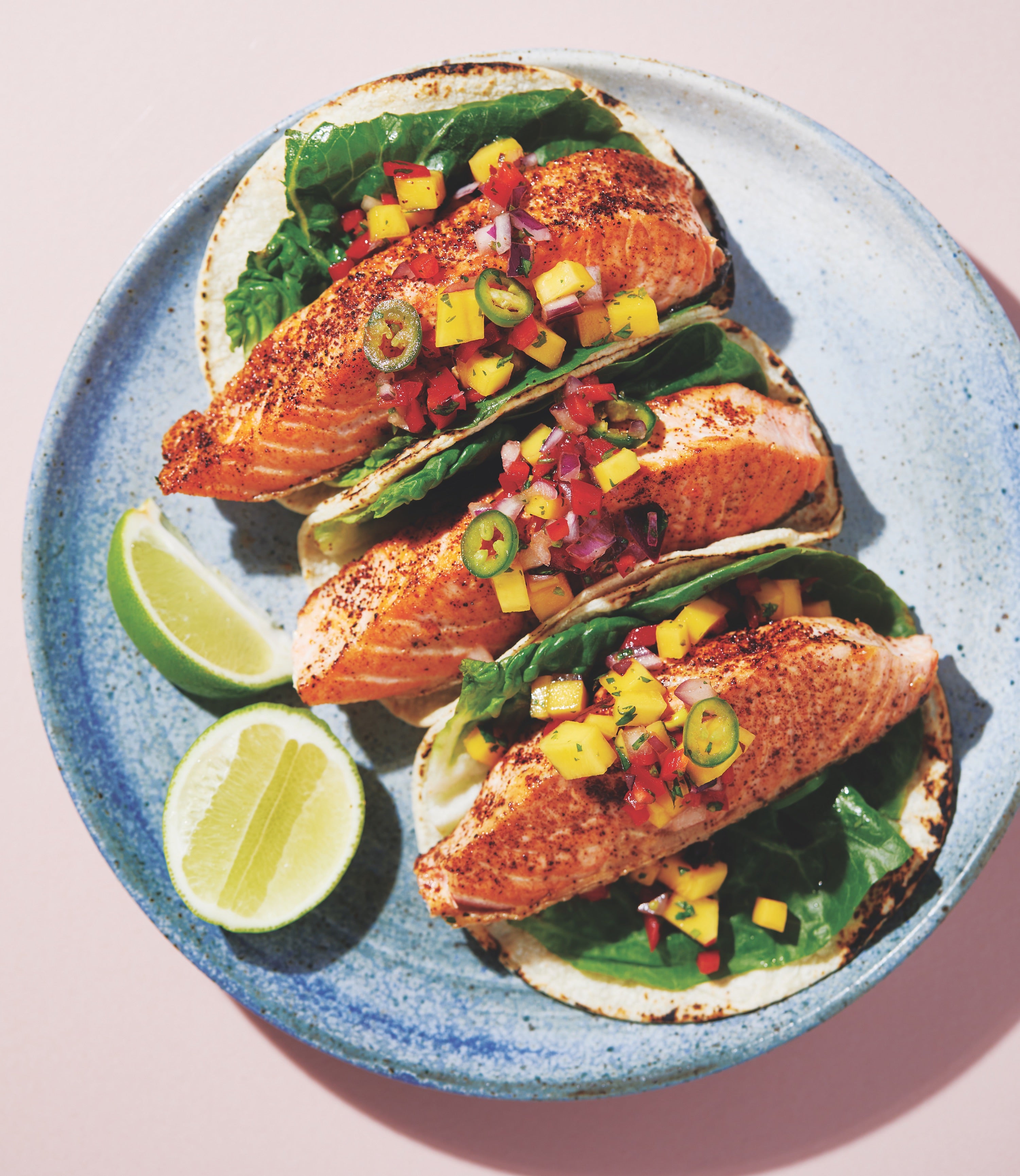 Tacos are one of our favorite food groups, and can you blame us? It's hard to resist spiced salmon, tucked into toothsome corn tortillas with a little tender butter lettuce, creamy avocado, and a heaping spoonful of sweet and tangy mango salsa. If packing to go, separate out all the elements so the salmon can be easily reheated just before you eat.
Yields 4 Servings
INGREDIENTS: 
4 cooked salmon fillets (in book)
2 teaspoons chipotle chile powder
1 lime, halved
2 cups mango, finely diced
1 cup red bell pepper, finely chopped
¼ cup red onion, finely chopped
½ cup fresh cilantro, finely chopped
1 jalapeno pepper, finely chopped
2 tablespoons lime juice
12 6-inch corn tortillas
12 leaves butter lettuce
1 avocado, thinly sliced into wedges
Salt
Follow the cooking instructions for the salmon (p.TK), however when seasoning with salt, sprinkle the salmon fillets allover with chipotle powder. Squeeze lime juice over cooked salmon and break into pieces.
In a medium bowl combine the mango, bell pepper, onion, cilantro, jalapeno, and lime juice; season with salt. 
Heat the tortillas in a dry skillet over high heat. Place a small leaf of butter lettuce inside of each tortilla, then top with salmon and a wedge of avocado. Spoon mango salsa over top to serve.
PREP AHEAD
Cook the salmon, 3 days ahead
Make the mango salsa, 3 days ahead
Share