Cheat Sheets - Sheet Pan Greek Chicken Grain Bowls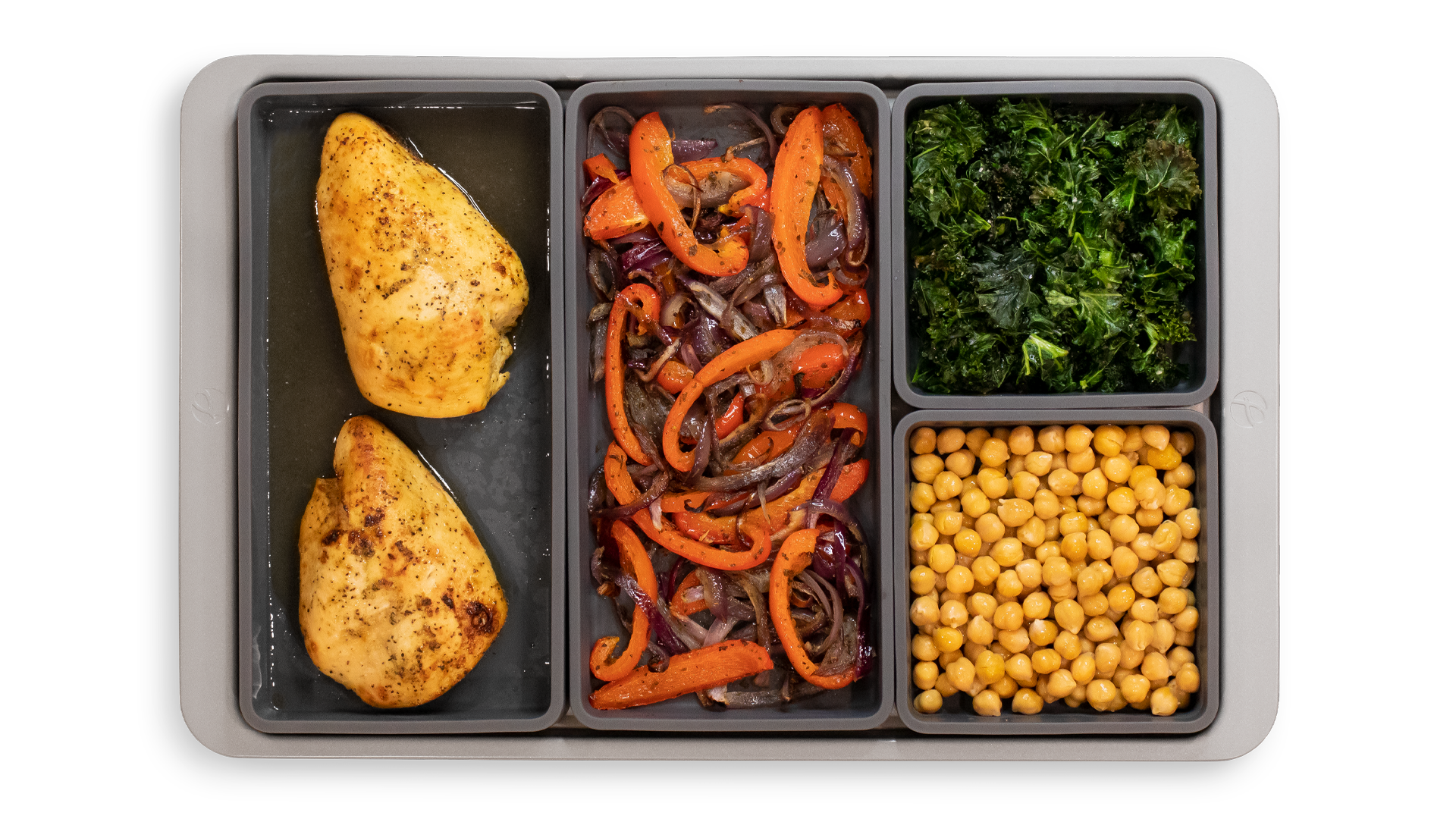 These healthy Greek chicken bowls by Kaleigh Mcmordie can be perfectly prepared with the Prepd Cheat Sheets Dividers. They are flavorful and filling grain bowls topped with Greek chicken, roasted veggies, chickpeas and tzatziki sauce, all conveniently cooked on one sheet pan. This delicious recipe is great for weeknight dinners or meal prep! This recipe is also gluten free and nut free!
Prep Time: 20 minutes
Cook Time: 30 minutes
Total Time: 50 minutes
Servings: 4 servings
Category: Main dish
Ingredients
For the Quinoa:
- 1 cup quinoa, uncooked
- 1 clove garlic, minced
- 1/4 cup onion, finely diced
- 2 cups vegetable stock
For the Sheet Pan Greek Chicken and Veggies:
- 2 boneless, skinless chicken breasts
- 1/4 cup Greek seasoning
- Juice of 2 lemons
- 2 tbsp red wine vinegar
- 3 tbsp olive oil, divided
- 1 medium red onions, sliced
- 1 medium red bell pepper, sliced
- 1/2 tsp dried oregano
- 1/4 tsp kosher salt
- 1/4 tsp black pepper
- 1 can chickpeas, drained
- 1/2 bunch kale, cut into ribbons
For the topping:
- 1/2 cucumber, sliced
- 1 cup cherry tomatoes, halved
- 1/2 cup tzatziki sauce and/or hummus
- Other toppings: black or kalamata olives, feta cheese, fresh herbs
Instructions
For the quinoa:
1. In a small saucepan, combine onion, garlic and quinoa. Add stock and bring to a boil over over medium heat.
2. Lower heat and simmer, covered, about 15 minutes or until liquid is absorbed.
For Sheet Pan Greek Chicken and Veggies:
1. Heat oven to 400°F. Season chicken breasts liberally with Greek seasoning. Whisk lemon juice, red wine vinegar and 2 tbsp of the olive oil and place chicken into the mixture to marinate for at least 30 minutes. 
2. Toss bell pepper and onion slices with remaining 1 tbsp olive oil, oregano, salt and pepper.
3. Place chicken on a sheet pan lined with parchment or a silicone baking mat. Spread peppers and onions on the sheet pan around the chicken in a single layer. Cook 20 minutes.
4. Remove the sheet pan and spread the kale and chickpeas around the chicken. Stir and return to the oven for 10-15 more minutes, or until chicken is cooked through.
5. Remove from the oven and slice the chicken on a cutting board.
For Bowls:
1. While chicken and veggies are cooking, prepare tzatziki sauce and cut tomatoes and cucumbers.
2. Assemble bowls by adding cooked quinoa to the bottom of bowls. Top each with roasted veggies and chickpeas, sliced chicken, cucumber, tomato, and tzatziki or hummus, along with any additional
Notes:
- This recipe is great for using leftover quinoa. It will save you a step!
- Feel free to use raw baby spinach or other greens in place of the roasted kale.
- Make these bowls with whatever you have and whatever suits your taste. Get creative with your grains, toppings, etc!
- Store leftovers in the refrigerator for up the 3 days, keeping raw veggies and tzatziki sauce separate so that they don't get soggy.
Find it online: https://livelytable.com/greek-power-bowls/
Share