Bulgogi Lettuce Wraps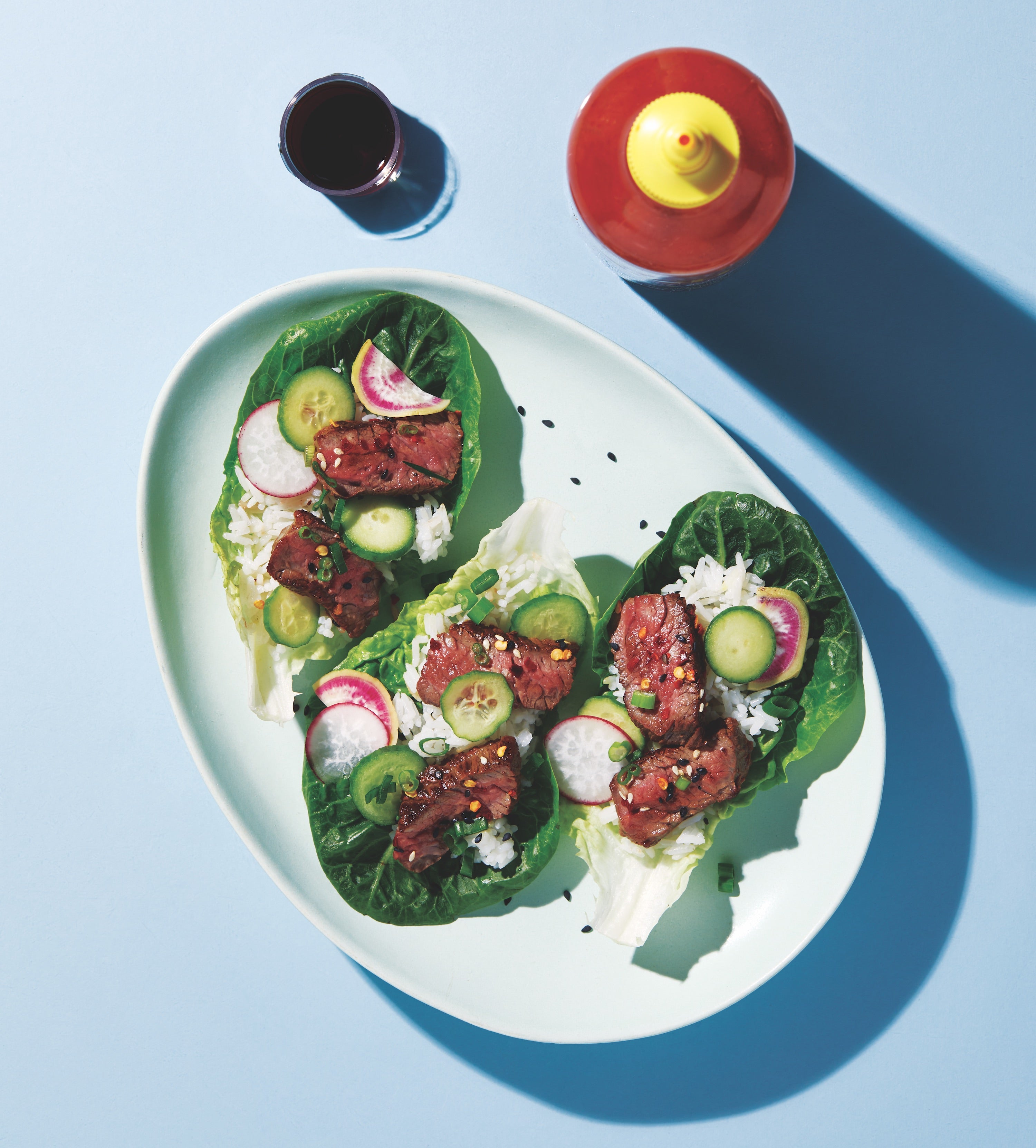 The recipe for the Korean barbeque marinade comes from Prepd super-user Jean (@4beaniesmama). Highly versatile (try it on chicken or fish), it's become her go-to sauce and we get why. The steak can be marinated and cooked whole or sliced thin before marinating like traditional bulgogi. It can be paired with a grain and cooked vegetables or packed with a salad, but we thought it would be lovely paired with some steamed rice, crunchy veggies, and a crisp lettuce leaf, so we did just that. Downright addictive, if you ask us!
The marinade can be made in large batches and stored for up to 2 weeks in the fridge, so you can always be sure to have some on hand.
Yields 4 Servings
INGREDIENTS: 
1 pound flap or flank steak, whole or thinly sliced
6 tablespoons soy sauce
3 tablespoons mirin
3 tablespoons sugar
3 tablespoons minced garlic
1 scallion, thinly sliced, plus more for serving
1 teaspoon mashed pear or kiwi
½ teaspoon freshly grated ginger or ¼ teaspoon ground ginger
1 tablespoon sesame oil
1 Persian cucumber and 2 to 4 radishes, thinly sliced, lightly tossed in seasoned rice vinegar
2 heads of Bibb lettuce, leaves separated, covered, chilled
Cooked white rice (in book)
1 teaspoon sesame seeds, toasted
Gochujang or sriracha, for serving
Freshly ground pepper
METHOD: 
In a large bowl, combine the soy sauce, mirin, sugar, garlic, scallion, pear, ginger, and a small pinch of pepper. Stir until the sugar has dissolved. Add the meat, cover, and refrigerate for at least 30 minutes or overnight.
Heat the oil in a large skillet over medium-high heat. Transfer steak to the skillet, discarding the marinade. If using a whole steak, cook, turning once or twice to brown evenly, until medium-rare and lightly charred. Thinner steaks (anything less than 1 ½ inches) will take about 3 minutes per side; larger steaks, about 8 to 10 minutes total. Transfer steak to a cutting board and let rest at least 15 minutes before slicing. If using sliced steak, cook, turning often, just until cooked through and browned, about 2 minutes. 
Serve meat with lettuce leaves, rice, cucumbers and radishes. Top with sesame seeds and scallions, and gochujang, to taste.
SERVE WITH: 
Sesame Cucumber Salad (in book)
DO AHEAD: 
Make the marinade, 2 weeks ahead
Cook the steak, 3 days ahead
Cook the rice, 3 days ahead
Share