Bahn Mi Collard Wraps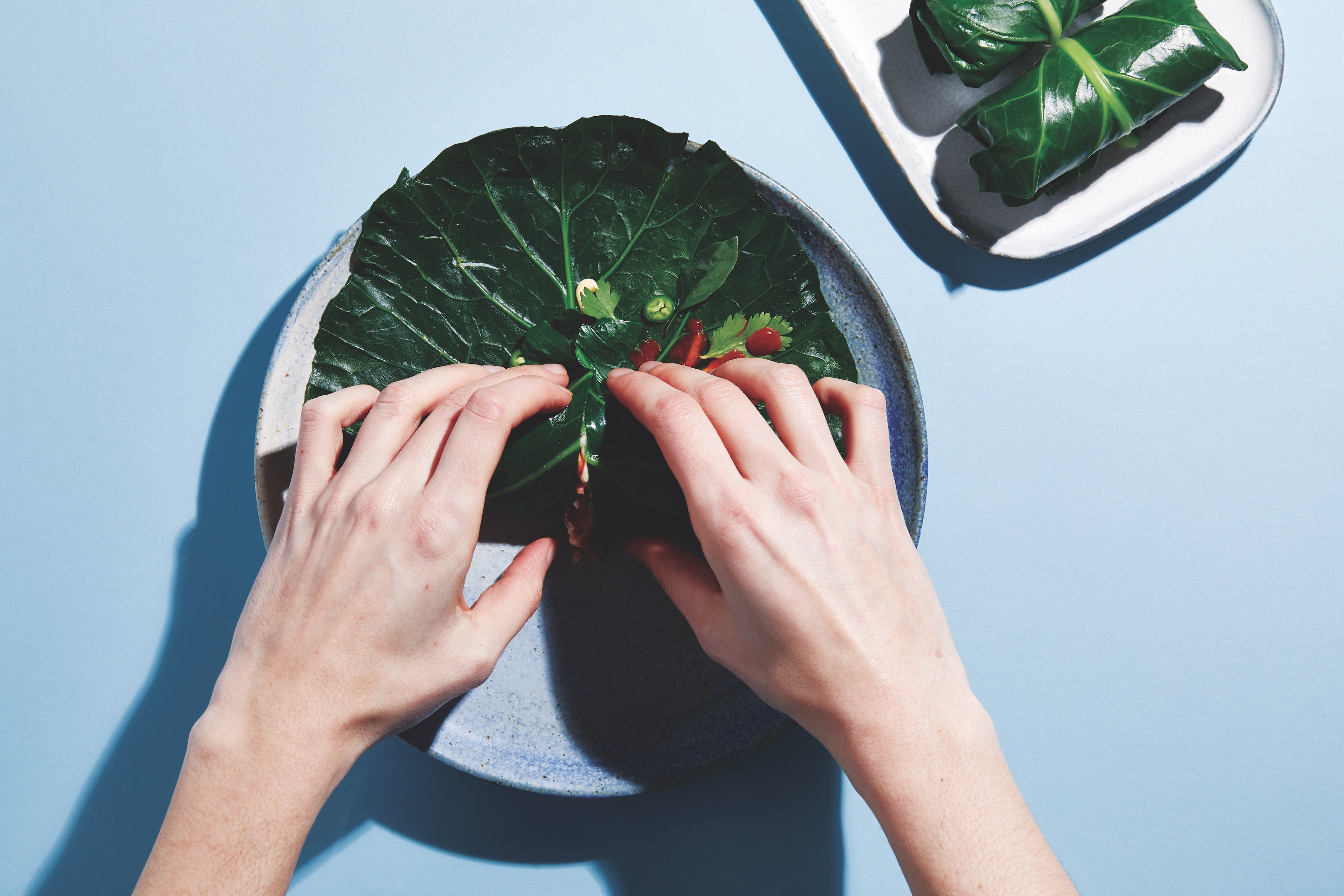 We like the satisfying crunch of raw collard greens, but feel free to first blanche the leaves for about 30 seconds in salted water to make them more tender and rolling them up a bit easier.
Yields 4 Servings
INGREDIENTS:
⅔ cup mayonnaise
4 tablespoons finely chopped scallions, divided
2 to 3 tablespoons sriracha, to taste, divided
1 tablespoon vegetable oil
4 cloves garlic, minced
1 pound ground pork
2 tablespoons fish sauce
1 teaspoon sugar
½ cup chopped fresh basil (optional)
Zest of 1 lime
Juice of ½ lime
METHOD:
In a small bowl, whisk together the mayonnaise, 1 tablespoon scallions, and 1 to 2 tablespoons sriracha.
In a large skillet over medium-high heat, heat oil. Add the remaining 3 tablespoons scallions and the garlic. Cook, stirring, for 1 minute. Add pork and cook, breaking up with the back of a spoon, until no longer pink, about 7 to 10 minutes. Stir in remaining 1 tablespoon sriracha, fish sauce, sugar, and a pinch of salt and pepper. Remove from heat and stir in basil (if using), lime zest and juice. Let cool slightly, then add ½ of the mayonnaise mixture.
Lay the collard green leaves flat on a cutting board, rib side up. Run the blade of your knife parallel to the cutting board, carefully slicing off most of the bulky rib while leaving the shape of the leaf intact. Spread a bit of the mayonnaise mixture in the middle of each leaf, leaving a 1-inch border. Layer on pork, pickled vegetables, and cilantro. Tuck the leafy end (opposite the rib end) over the ingredients to keep them secure, then roll up the wrap tightly like a burrito, leaving the stiffer ribbed end open.
PREP AHEAD:
Pickle the vegetables, 1 week ahead
Make the sriracha-mayonnaise, 5 days ahead
Make the pork filling, 3 days ahead
4 large collard green leaves
Pickled carrots and radishes (p. TK)
Fresh cilantro, for serving
Salt and freshly ground pepper
Share