Make soggy salads a thing of the past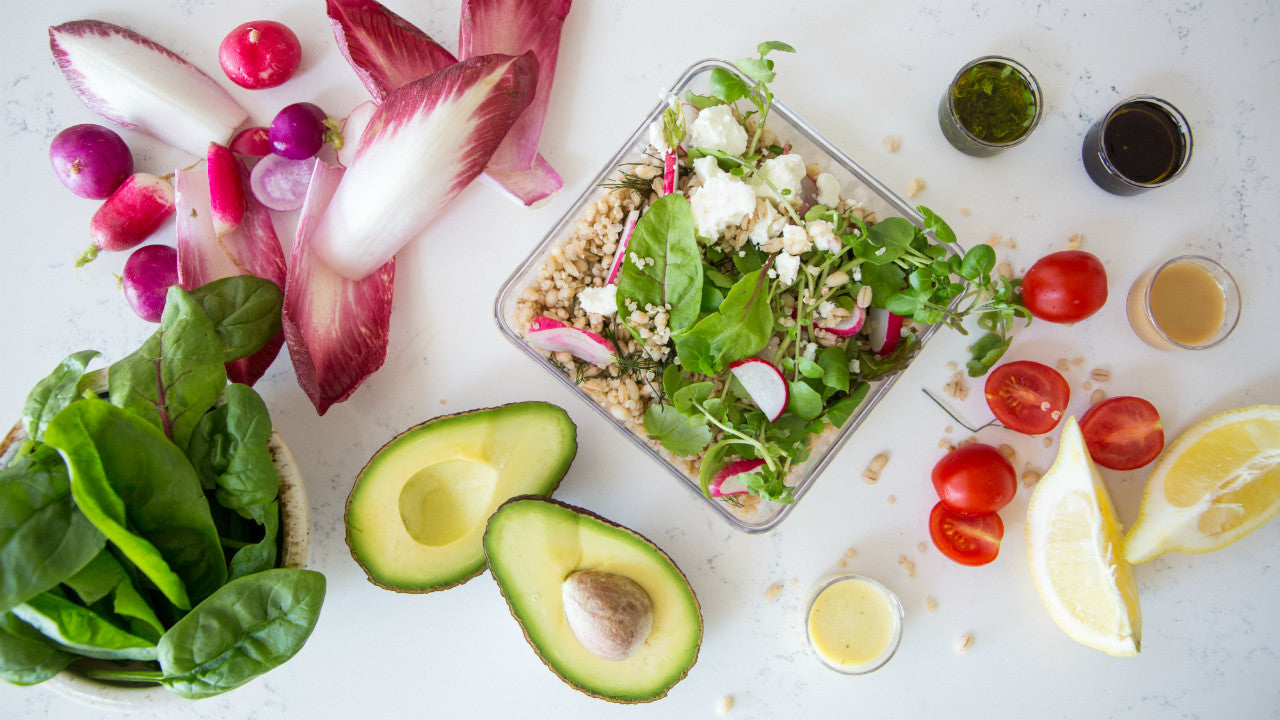 Nothing screams summer like opening up your lunchbox to a fresh, light and super tasty salad. Despite being renowned for being boring, simple salads can spice up your lunch hour in no time at all, and they won't give you a guilt-trip.

However, packing salads is an art, and we're here to show to how to make sure that your salad lasts until lunchtime – without your crunchy toppings getting crushed and your leaves getting all soggy.
Top tips for super tasty lunchbox salads
Layer up your salad with the heaviest ingredients at the bottom and the lighter additions at the top. Start with the bulkier meat, pulses and grains and top with veggies and leaves.

Don't salt your salad! Adding salt to the salad when you prepare it will draw the water out, making it soggy and lacklustre when it comes to lunchtime!

Save your dressing for serving. If you drizzle over the dressing when you make your salad, it'll lose its texture and crunch in no time. Pack the dressing in the pot that screws into the lid of your Prepd Pack.

Check out our quick simple dressings perfect for your small container to screw into your container.
Tahini & Lemon
- 1 tsp tahini
- 1 tsp lemon juice
- 1 tsp olive oil 
- a small pinch of salt & pepper
(shake well before serving)
Honey & Balsamic 
- 1 tsp runny honey
- 1 tsp balsamic vinegar
- 1 tsp olive oil
- a small pinch of salt & pepper
(shake well before serving)
Creamy Vinaigrette 
- 1 tsp natural yoghurt
- 1 tsp apple cider or white wine vinegar
- 1 tsp olive oil
- a small pinch of salt & pepper
Herb Oil 
- a large pinch of your favourite fresh green herbs, finely chopped (basil, mint, dill – or a mix!)
- 1 tsp lemon juice
- 1 tsp olive oil
- a small pinch of salt & pepper
Get a load of go-to grains
Don't fall into the trap of thinking that salads are all about lettuce and arugula! Steer clear of light and flimsy salad leaves and water-heavy veggies like cucumber and zucchini. Instead, opt for sturdy and satisfying ingredients that will hold their shape like grains, beans and cheese.
This vegetarian burrito bowl is a prime example of an exciting salad packed with good grains.
Pack a punch with crunchy toppings
Fill your dressing pot with crunchy salad toppings like nuts, seeds or breadcrumbs ready to sprinkle on your salad when you are ready to eat. They will add crunch and texture and save soggy salads.
Try this spelt, tomato and pomegranate salad – packed with texture, crunch and deliciousness.
Raw and simple
There's no doubt about it – raw ingredients stay fresher, crunchier and tastier. If you're not a big fan of batons of carrots and chunks of cucumber, try grating firm and crunchy veg with a box grater to make them easier to eat.
Our recipes for raw zucchini salad and rainbow slaw and feta make perfectly healthy lunchtime treats.
Find more recipes and lunchbox inspiration on Pinterest and the Prepd app.
Share