How To Batch Cook Soy Salmon And Noodles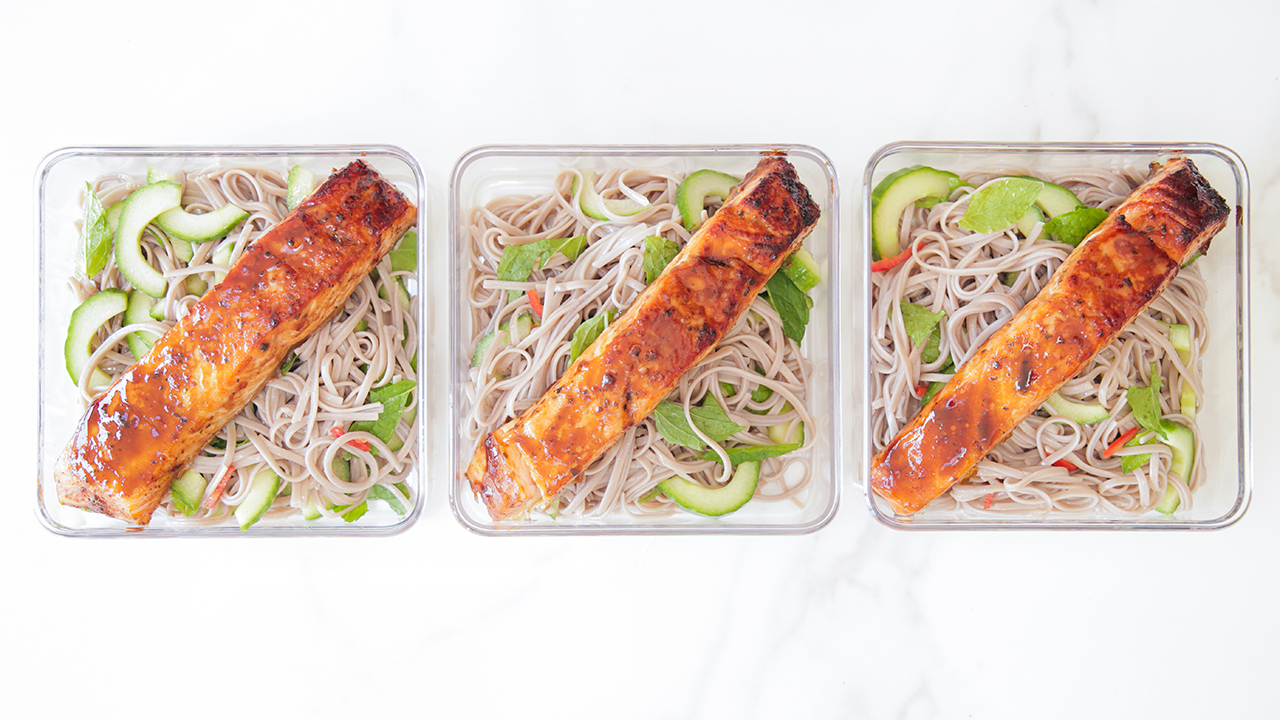 It's easy to let your plans to prepare fresh, healthy food slip with a busy working lifestyle and lots of temptations (aka office biscuits) around. There are, however, a few things that can help you stay on track, and batch cooking is one of them.  
Cook now, eat later
Not only will batch cooking save you money, but you'll also find that you waste a lot less food and it'll make it a lot easier for you to stick to a homemade meal plan. If you can set aside just half an hour, you can make three days worth of our most popular Prep'd packed lunch – soy salmon and buckwheat noodles.
 
This tasty and super easy salmon noodles dish is packed full of protein and heaps of healthy oils. Plus, it's completely gluten, wheat and dairy free. A balanced meal with fresh, punchy flavours and absolutely no nasties – ready in under 15 minutes. Your cooked salmon will keep for 3-4 days in the fridge, just be sure to buy as fresh as possible.
What kit will I need?
- 3 large square containers. Buy them here
- 1 baking tray
- 1 medium saucepan
- 1 colander or sieve
Making the Soy Salmon and Buckwheat Noodles
Heat up your grill to a medium heat. Prepare a baking tray with your three pieces of salmon, skin side down.
Mix the miso, soy sauce and honey into a paste and smother over salmon.
Place the salmon under the grill for 5 minutes until charred on top, adding more of the sticky marinade if you have any left. The salmon should be slightly rare in the centre but dark and sticky on the outside. Leave to one side to cool.
To make your noodle salad, bring a large pan of water to the boil. Cook the noodles according to packet instructions.
Rinse the noodles well in cold water and drain them, then toss them in the sesame oil until well coated. The sesame oil will add flavour and stop the noodles from sticking together. Leave to one side to cool.
Half the cucumber lengthways and scrape out the central column of seeds using a teaspoon. Discard the seeds and slice the cucumber into half moon shapes.  
Finely slice as much chilli as you dare (we use 1 medium chilli). If you seeds remove the seeds this will usually be a mild heat. Mix the chilli and cucumber together with the torn mint leaves, the juice from your limes and the cool, oiled noodles.
Add the noodles to your large container and top with your salmon. Refrigerate for up to 4 days in your containers until ready to eat.
 Your shopping list
- 3 fillets of salmon (make sure it is as fresh as you can find and look for the latest use by dates on the packet!)
- 1 sachet of organic miso paste
- 3 tbsp light soy sauce
- 3 tbsp runny honey
- 90g buckwheat noodles
- ¾ cucumber
- 3 handfuls of mint leaves
- 3 tablespoons sesame seeds
- 2 limes
- 1-2 red chillies (depending on how much heat you like)
- 3 tbsp sesame oil
Learn how to batch cook date & coconut energy balls – the perfect snack to add to your soy salmon lunchbox.  
Find more recipes and lunchbox inspiration on Pinterest and the Prepd app.
Share