Five Healthy Meals. One Bag Of Shopping.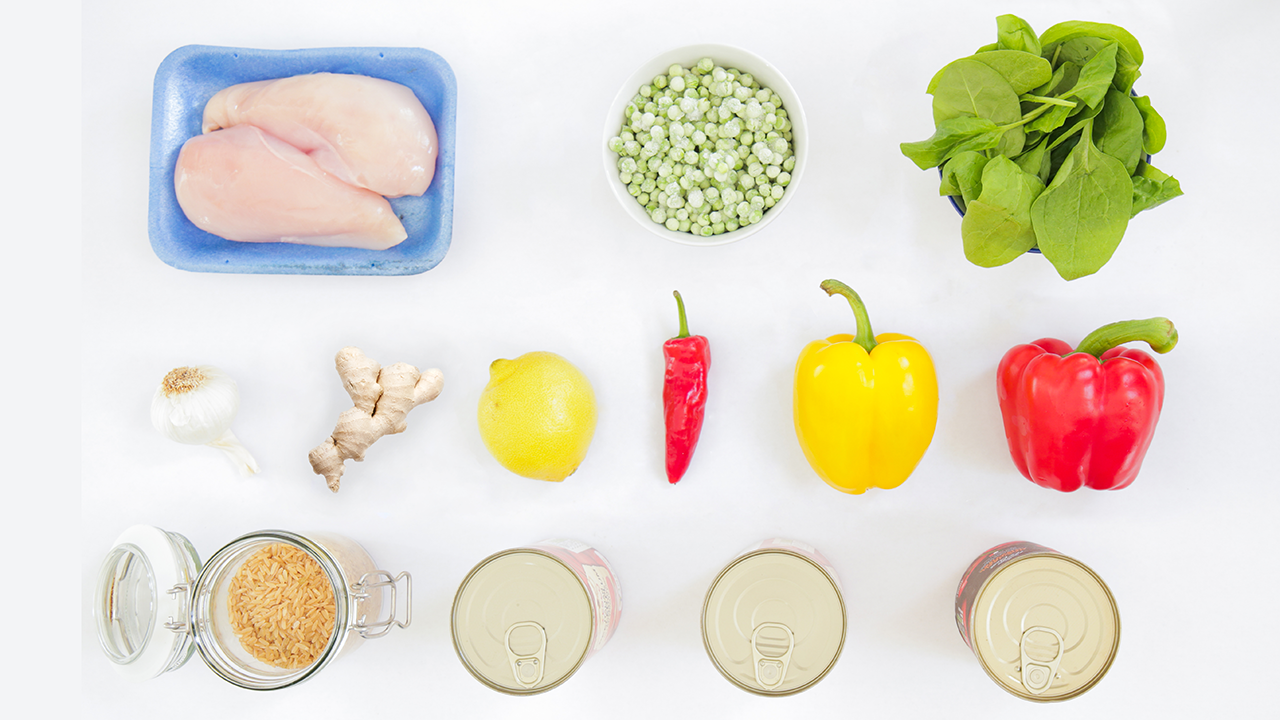 There's nothing worse than dragging yourself around a busy supermarket shopping for a recipe, only to find you've forgotten a couple of vital ingredients when you get home.
We're here to help make stressful supermarket shopping a thing of the past! Go armed with this simple list and you'll be able to cook up five different healthy meals for the week ahead. All the ingredients are available from most convenience stores and best of all – they'll all fit in one shopping bag.
The shopping list
- 2 skinless, boneless chicken breasts
- 1 packet of brown rice
- 1 can of chopped tomatoes
- 1 can of coconut milk
- 1 can of chickpeas
- 1 bag of spinach
- 1 red chilli
- 2 bell peppers (any colour will do!)
- 1 bulb of garlic
- 1 small piece of root ginger
- 1 lemon
- 1 small bag of frozen or fresh peas
Top tips for five meals with minimum fuss
Check the use by or best before dates on your fresh food items. Make sure they're the freshest available and will keep until you're ready to cook. Try picking from the back of the shelf for the items with the longest expiry dates!
Cook enough rice for four meals on your batch cooking day. Leave to cool before refrigerating in sealed containers where it will be good to eat for four days. That means you'll only have to cook more for your fifth and final weekly meal.
Grill your chicken in advance, but be sure not to overcook it as it will dry out slightly as it's stored. It'll keep for three to four days in the fridge.
Avoid refrigerating leftover canned goods in their tin or can. Instead, transfer them into a sealed container or covered dish to store
Meal 1: Grilled chicken & hummus rice bowl
A protein-packed light meal with whole grain carbohydrates that you can make in advance with pre-cooked brown rice, grilled chicken and a cheat's quick and easy hummus.
Get the full recipe 
Meal 2: Quick chickpea coconut curry
A light veggie curry that packs in the protein with a serving of chickpeas. Served with your pre-cooked brown rice and loads of fresh veg.
Get the full recipe
Meal 3: Quick chicken curry & brown rice
A really quick and easy chicken curry. The recipe lists curry powder as an extra ingredient to the shopping list above. If you don't have any lurking around in your pantry, you can use the same amount of ground cumin, ground coriander or ground turmeric for different flavours or just leave out altogether for a simpler curry.
Get the full recipe
Meal 4: Cheat's chicken paella
Brown rice cooked in chopped tomatoes, garlic, sweet peppers and bright green peas. Best served with a squeeze of fresh lemon and a grilled chicken breast for lean protein.
Get the full recipe 
Meal 5: Veg fried brown rice
Leftover brown rice fried up with bright fresh veg and a dash of coconut milk.
Get the full recipe
Find more recipes and lunchbox inspiration on Pinterest and the Prepd app.
Share